Regular price
$88.00 AUD
Sale price
$88.00 AUD
Unit price
per
Sale
Sold out
Rose (Australian) Essential Oil
Australian Rose is a rich, grounding, calming and rosy perfume-like pure essential oil.
The aroma of Australian Rose is a wonderful, strong, grounding rose perfumed aroma, with a fresh, fruity element. It is an essential oil from a very rare Australian plant.
Australian Rose is grounding and calming, boosts self confidence, create happiness, relieves stress, and creates a romantic environment. Use as an alternative to traditional Rose essential oil or absolute.
Botanical name: Leptospermum petersonii Variety 'B' CT 'Geraniol'
Ingredients: 100% v/v pure Australian Rose essential oil.
Australian Rose Essential Oil Aroma
A truly wonderful, grounding, calming, rosy perfume aroma with a fresh fruity note. Great for perfume lovers.
Australian Rose Essential Oil Benefits
Grounding and calming, boosts self confidence, creates happiness, relieves stress, excellent in skin creams and lotions, strong potential in anti-aging creams and products.
Australian Rose Essential Oil Uses
Apply to the skin as a perfume, add to a diffuser, oil burner, air freshener, potpourri, bath.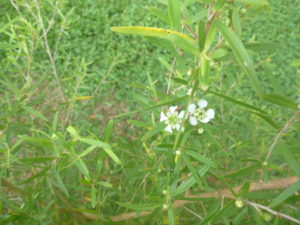 Aromatherapy Oil
Add 1 drop to the skin as a perfume, 2 to 4 drops in a diffuser, oil burner or vaporiser for a beautiful, grounding, calming rose aroma.
Blend Australian Rose Essential Oil with
Australian Rose essential oil is powerful and excellent on its own or blend with woody, spicy, floral oils. Use Australian Rose oil sparingly in blends to avoid overpowering. Try blending it with other Essentially Australian oils: Australian Sandalwood Essential oil, Lemon Myrtle Essential Oil, Rose Myrtle Essential Oil, Byron Bay Rose Essential oil
Main Actives of Australian Rose Essential Oil
Contains geraniol (rose aroma), geranyl acetate (fruity aroma), gamma-terpinene, terpinolene, linalool.
Precautions
Keep out of reach of children.
Patch test first on the skin.
Store away from direct sunlight.
Store below 30 degrees.
Other Common Names
Rose scented tea tree,
Natural Occurrence in Australia
The tree is extremely rare, and naturally occurs in only a few hectares in lowland floodplain country, in northern New South Wales. Australian Rose grows to a maximum height of 10 metres in the wild where there is high and regular rainfall, preferring rocky and alluvial soils.
Characteristics of Australian Rose Essential Oil
Clear to amber yellow in colour; watery consistency; rosy scent with fresh fruity notes.
Research on Australian Rose Essential Oil
French aromatherapist Nina Bales has completed research on the aromatic, therapeutic and cosmetic potential of Australian Rose oil. She sees great potential in its use for aromatherapy, cosmetic products, like body lotions and skin creams. There is also great potential for anti-aging, stress reduction and assisting with rest and relaxation.
Extraction and Farming Method
Australian Rosewood was grown from seedlings from rare local Australian Rose plants. The oil is extracted via steam distillation of the leaves and green branchlets. 
Share
View full details